REQUIRED READING IN THE FINANCE SUITE AT
MAJOR CORPORATIONS ACROSS CANADA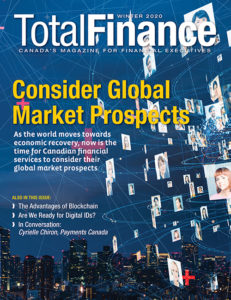 Contact Taylor Carmichael, Senior Advertising Manager, at taylor@lloydmedia.ca or by direct call to 705-341-4859.
Or complete the Media Kit Request Form at right.
For editorial inquiries, email Editor in Chief Steve Lloyd steve@totalfinance.ca
Do you want to reach…?
Find out more about the range of responsibilities and buying influences of our readers. There are ways to reach them through multiple channels.
Want to engage the CFOs, VPs Finance and other Senior Executive Management at the largest corporations, organizations, not-for-profits, financial institutions, retail chains, ecommerce firms, payments companies, Fintech leaders, and other bricks-and-mortar and digital companies in Canada? Total Finance is the total solution.
TF is Canada's corner-suite magazine that is the top of a pyramid of more targeted publications in the financial segment of Canadian business. Not just financial firms, but financial leaders at  in every NAICS code, across the nation.
With an engaged circulation of 6,100 primary readers and another approximate 25,000 secondary readers through the family of magazines that includes Payments Business, Canadian Treasurer, Canadian Equipment Finance, and Financial Operations Total Finance draws upon an highly-desirable and unique audience of executives in corporate Canada and their subsidiaries who are responsible for creating, managing, supporting and fulfilling their firm's economic chain of revenue, expense, capital, FinTech, reporting, investment and so much more, delivered to you through a range of media channels.
Print Advertising | Digital Programs | In-Person Events | Custom Content | Email Campaigns | Web Banners | Full Corporate Magazines | Special Projects | Data Enhancement | List Rentals | Speaking Opportunities |

Total Finance includes supplements and special reports which give you unparalleled  opportunities to reach a uniquely targeted audience. Your ad will be seen by senior executives who need to keep on top of the financial health of their firms.
[infobox title='Get A Media Kit By Email'] Email  Steve Lloyd, Publisher & President to learn more about the Total Finance Group of magazines. We can create unique and personalized marketing plans to suite all budgets, channels and target customers.
Sample Issues are representational. Actual covers may vary.