Canada's economy in the past year had a bumpy ride, as the promise of mass vaccinations was followed by supply chain disruptions, a global energy crisis and rising inflation.
Looking ahead, we see a Canadian economy continuing to recover, even as businesses and consumers contend with challenges that now include the Omicron variant of the coronavirus. Here's what we forecast for the economy this year:
Gross domestic product: Growth will be just under 4 percent on the year, with gross domestic product surpassing the pre-pandemic level early in the year.
Inflation: Expect inflation to hit 5 percent this year before approaching 3 percent by the year's end.
Employment: The job market will continue to contend with the dual challenges of a tight labour market and high long-term unemployment, as the unemployment rate declines to just above 6 percent.
While the omicron variant presents a threat to all these areas of the economic outlook, we do not expect its impact to significantly derail the recovery.
The housing market, which broke records this past year, might hit a plateau and cool this year, but a major correction is not yet in the picture.
After an uneventful election in September that left the federal government virtually unchanged, we can expect federal spending to follow its budget from last April.
Broad-based COVID-19 government support programs ended this year, and more targeted support programs will also be phased out in place of economic stimulus programs before the budget is tightened next year.
The year ahead will also have substantial federal investment in developing a net-zero economy and boosting a green recovery. Business opportunities lie in energy efficiency, carbon capture and storage technology, natural infrastructure, and climate resiliency.
Still, there are considerable risks to the outlook some that cannot be predicted. The omicron variant is a case in point.
Canada will need to adapt to a new world in which we learn to live with an endemic, a disease that is ever-present but can be managed. It's a world in which vaccinations and physical distancing remain important to maintaining public health while the economy hums on.
As millennials enter management and Gen Z workers join the labour market, the digital economy will only continue to grow. Hybrid work arrangements and flexible schedules will solidify their footing in the new normal. Up-skilling and re-skilling the workforce and innovation to increase productivity will be critical.
The baseline scenario
We expect the Canadian economy to grow at a rate of 3.8 percent next year. This baseline is subject to risks including persistent high inflation, supply chain disruptions, the omicron variant and an aging workforce. Any and all of these could cause a drag on the recovery.
Household savings increased during the pandemic, fuelled by government support programs like the Canada Emergency Response Benefit and a lack of spending avenues that put the savings rate at an elevated 11 percent.
This cash cushion will allow households to comfortably spend into this year, although the effects will wane with high inflation and the omicron variant posing a risk to consumer confidence.
The Bank of Canada is walking a fine line between promoting economic recovery and anchoring inflation. It signalled an end to quantitative easing in October while maintaining its holdings of securities.
Our RSM Canada Financial Conditions Index stands at 0.6 standard deviations above normal levels of risk, indicating an accommodative climate for investment.
The market has priced in two full rate hikes by the middle of this year, suggesting that the central bank will soon be taking action toward policy normalization. Still, monetary policies will err on the side of prudence because the pandemic remains a threat to public health and economic activity.
The strong economic outlook in the United States spells good news for Canada's exports. But uncertainty regarding the pandemic in the international markets could extend the disruptions to the supply chain and hamper trade.
Thanks in part to oil prices the Canadian dollar is projected to stay relatively strong around US$0.80.
Strong oil and gas demand, with production and jobs picking up, will provide Alberta with a much-needed boost for growth, although the effect will unlikely be as vigorous as in the oil boom in 2014.
As the Omicron variant unfolds, we do not expect it to have the same effects that the delta variant did. More than 75 percent of the Canadian population is fully vaccinated, which may provide some protection although much about the variant is unknown. Looking abroad, more than half of the world has been vaccinated.
Still, the omicron variant could undermine consumer confidence and strain global supply chains as restrictions tighten. This uncertainty could exacerbate the impact of the coronavirus on hard-hit sectors like tourism, and arts and entertainment.
The recovery is pushed further into the second quarter as the omicron variant has led to shutdowns and restrictions around the country.
Inflation
Inflation in Canada, as with other nations, hit the highest level in 30 years. While high inflation came about in part because of base-year effects, or the comparisons to the low price levels of 2020, the actual number is even higher than expected.
Supply constraints and surging demand are primarily responsible for high inflation. Natural gas and oil production, which had been falling for years, could not keep up with the release of pent-up demand in a reopening economy.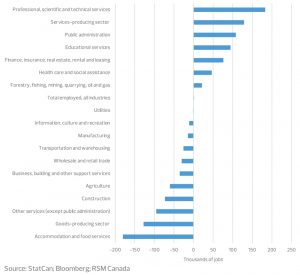 The current increase in inflation is being driven largely by volatile sectors like gasoline, food, shelter, utilities and transportation. Excluding food and energy, inflation looks much more moderate, at 3.4 percent.
While inflation remains a primary risk to growth and can lead to rising wages, which further increases businesses cost of operation, it is projected to return to the 2 percent target toward the end of 2022.
The new RSM Canada Supply Chain Index currently stands at 2.17 standard deviations below zero, indicating stress in the supply chain, but is up from the lows of last year.
Though much can still change, there are signs that the worst of the supply chain bottlenecks might soon pass. The manufacturing outlook is optimistic, buoyed by strong demand and a smoother supply chain.
The resolution of the supply chain disruptions will depend on many factors, including increasing energy production, vaccinating workers in global manufacturing hubs like Vietnam and India, resolving logistics, and addressing the shortages of important workers like truck drivers in the supply chain.
The labour market
The signs of an uneven recovery are the most jarring in the labour market. Employment has surpassed the pre-pandemic level and will continue to rise steadily this year. Similarly, the labour force participation rate has returned to or has surpassed the pre-pandemic level for most age groups.
But a closer look reveals a much more complicated picture: We are in a tight labour market with many vacancies in highly sought-after jobs while long-term unemployment persists.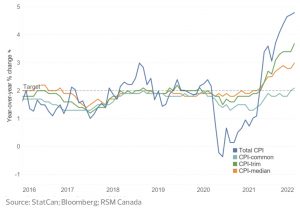 The gains over the past two years have been entirely in sectors that were able to pivot to remote work, and in government and public administration.
Jobs in professional services, for example, jumped by nearly 10 percent, outpacing any other sector. These sectors are projected to remain strong, though with less aggressive growth rates.
In contrast, sectors that have taken serious hits include those that rely heavily on in-person services like accommodation and food services, and in goods-producing sectors because of supply chain disruptions.
With easing pandemic restrictions, these hard-hit sectors might bounce back this year, constrained by a limited supply of labour and uncertainty surrounding the pandemic.
A lasting challenge for Canada lies in its aging workforce. For years, Canada had relied on immigrants for a steady labour supply. But in 2020, Canada's population growth dropped to the lowest rate since 1916 because of the pandemic-induced border shutdown. With immigration projected to increase in 2022 as borders open, the labour market might see some easing.
The simple truth is that Canada does not have enough young people to replace its retirees. Significant investments in productivity and automation will be required to reduce the labour shortage.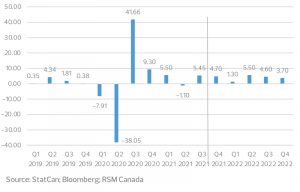 Despite a hot labour market, unemployment remains above the pre-pandemic level because of a skills mismatch. Those with a postsecondary education or above have benefited. At the same time the number of jobs for those without a postsecondary education have yet to return to the level of February 2020, before the pandemic.
This exacerbates inequality between the two labour markets: one serving the struggling traditional economy versus one that rides the rising wave of the digital economy. Those with skills in demand will see their wages increase as businesses seek to attract and retain talent.
As millennials reach leadership positions and Gen Zers enter the labour market, the fundamental demographics of the workforce are shifting. A workplace that values mobility, flexibility and digital skills — not to mention sustainability — will become mainstream.
The housing market
The residential housing market in Canada skyrocketed in 2021 as households shifted spending from services toward housing, aided by generous federal support.
The current housing crunch comes after more than a decade of restricted building, leading to chronic undersupply. Though investors play no small part in heating up the market, 2022 may see a market plateau or cool down rather than a burst.
Construction is slowing because of a shortage of materials and labour, but it is projected to pick up again next year. Since there is a lag between housing starts and sales, it will take a couple of years for the current construction boom to meet strong demand.
The upcoming years will see the real estate industry adapt to an endemic COVID-19 world. Demand for residential real estate will remain elevated, and construction will shift toward more residential and fewer commercial projects to accommodate the changing demand.
The takeaway
This past year has been characterized by an uneven recovery that is slower than expected. Next year, Canada will transition from living with a global pandemic to coping with an endemic. The movements of COVID-19 will still cause fluctuations in the economy, though with less severity.
Through it all, we expect a year of strong growth as demand at home and abroad remain robust. As government support wanes, challenges remain in making the investments to increase productivity and innovation to stay competitive in the global market.
About RSM Canada. RSM's purpose is to deliver the power of being understood to our clients, colleagues and communities through world-class audit, tax and consulting services focused on middle market businesses. The clients we serve are the engine of global commerce and economic growth, and we are focused on developing leading professionals and services to meet their evolving needs in today's ever-changing business environment. RSM Canada LLP provides public accounting services and is the Canadian member firm of RSM International, a global network of independent audit, tax and consulting firms with 51,000 people across 123 countries. RSM Alberta LLP is a limited liability partnership and independent legal entity that provides public accounting services. RSM Canada Consulting LP provides consulting services and is an affiliate of RSM US LLP, a member firm of RSM International. For more information visit rsmcanada.com
Authors: The Real Economy Winter 2022 Report is written by Joe Brusuelas, Chief Economist; Mark Jakovcic, National Real Estate and Construction Industry Leader; Homan Chung, Senior Manager; Justin Krieger, Director; Tuan Nguyen, Ph.D., Economics and ESG Director; Alafair Hotze, Director; and, Yasir Riaz, Director; RSM Canada.