According to the latest data from EMVCo (www.emvco.com), which manages and evolves the EMV® specifications and related testing processes, 58.7 per cent of cards issued are 'EMV' as of Q4 2018 and that 73.6 per cent of all card-present transactions conducted globally used EMV chip technology. There are 8.23 billion EMV chip payment cards in global circulation.
Africa and the Middle East lead the world on EMV card adoption, while Europe holds top spot on EMV card-present transactions. Canada, together with Latin America and the Caribbean lead the U.S. with an 86.9 per cent chip adoption rate and with 93.75 per cent of card-present transactions compared with 60.7 per cent and 53.52 per cent respectively. But expect the U.S. percentage to climb as more American financial institutions and card issuers send EMV chip cards to their customers. Meanwhile, the U.S. leads Asia Pacific on card adoption but lags behind it on transactions.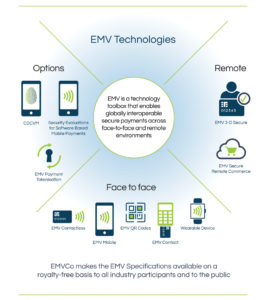 This infographic shows how EMV technologies are used.
The EMV specifications are continually being developed and enhanced through EMVCo's Associates Programme, whereby merchants, processors, vendors and other industry stakeholders participate as EMVCo Business and Technical Associates. There are presently 90 Associates worldwide, including four in Canada.
For example, EMVCo recently released the EMV® Secure Remote Commerce (SRC) Specification v1.0, which is available for free public download from the EMVCo web site. The specification provides a foundation that will enable the processing of e-commerce transactions in a consistent, streamlined fashion across a variety of digital channels and devices, including smartphones, tablets, PCs and other connected devices. EMV SRC is compatible with other technologies, such as EMV Payment Tokenisation and EMV 3-D Secure.
The publication of EMV SRC v1.0 follows a public consultation period on the draft specification in Q4 2018, which allowed as many payment industry participants as possible, including merchants, card issuers and payment networks, the opportunity to review and contribute.
"The continued growth of global e-commerce requires reinforcing consumer convenience and confidence in payments," said Karteek Patel, chair of EMVCo's Executive Committee. "EMV SRC can deliver this while supporting the evolving habits of consumers as they migrate their shopping to PCs/ laptops, mobile devices and other connected devices of the present and future."