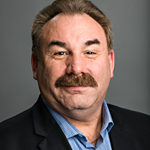 By Rick Snook
In 1957 a bank robbery in Cleveland, Ohio, where a man and his accomplice forcefully approached a teller, stuffed over $2,000 in a bag and ran out to their getaway car, became the first ever to be captured on film and caught soon after.
Fast-forward from that single analogue camera to today's sophisticated digital security system and it's clear that surveillance has come a long way.
With every new step that financial institutions take, from adding more ATMs to launching mobile banking platforms, criminals try equally novel methods to circumvent security measures. While the age-old hold-up has given way to cybercrimes like sophisticated phishing campaigns and identity theft, it's at the ATMs and the branch level where the final criminal acts are often committed.
The losses are staggering. In 2016, Canadian banks reimbursed customers for more than $900 million in losses as the result of credit and debit card fraud, according to the Canadian Bankers Association.
A robust surveillance system based on high-definition (HD) cameras remains one of the best ways to investigate a crime while providing a deterrent. Here are the key areas that these systems can help.
ATM vestibules. Most ATMs today have built-in cameras that can provide high-resolution images of the persons conducting the transactions while protecting the privacy of their PIN entries on the keyboards. A flexible HD camera installed discreetly can capture and identify features of the users. Comparing transaction data and tying it to the videos can be useful when investigating claims of card theft. In-camera analytics can detect "card mining": when someone has been using multiple cards to withdraw money from multiple accounts for a prolonged period.
Remote access allows you to facilitate investigations quickly without accessing the ATMs. An anti-tampering alarm will immediately alert security if someone has covered or redirected the camera and audio detection functionality sends an alert when specific sounds are produced, like glass breaking.
Behind the scenes security. Bank and credit union branches handle significant amounts of cash, and supervision of areas behind the ATMs is therefore also required. Whether it is the process of reloading ATM machines or pulling out and reconciling the day's deposits, transactions and cheques, this is a vital area that needs to be secured and monitored.
Loitering and peeking. Another concern with ATMs is loitering: a predominant problem notably in urban areas where homeless people use ATM vestibules as shelters. Loitering software can detect when someone has been in the vestibule for a set period and will send an alert to a central investigation office or directly to security staff, who can move them along. While loitering is generally more of a nuisance than a crime, it does create a risk for individuals using ATMs and an uneasiness about the level of safety.
In Europe, cameras with audio capabilities have been deployed to detect when a person comes too close to someone using an ATM. If this happens, it will queue an audio message that is played from a speaker to alert the ATM customer as well as prevent someone from creeping up and looking over one's shoulder to obtain a PIN number.
Entrances and exits. Branch exits and entrances should be secured with HD cameras that can capture clear facial shots, even in poor lighting, so that it would be possible to identify a person if a crime was committed. Lightfinder technology allows for colour video even in very low light conditions, which can be of utmost importance for accurate identification of people, vehicles and/or incidents. When most day-and-night cameras would switch to night mode and grayscale video, cameras equipped with Lightfinder technology keep delivering colour video at all hours of the day. Facial recognition software can be utilized as well, to flag people who've already been identified as a security risk, either from previous activities at that branch or as someone who is known to police.
Teller lines. Robberies at the branch level still happen. Installation of HD cameras at teller lines have become the norm to aid with the identification of individuals. In the cash handling process, mistakes and light fingers can cost money. But with the right cameras in place, the smallest details can be captured in every situation, so you can determine what went wrong and who was involved, with video evidence captured for use in possible claims. If analogue cameras are still in play, they can be upgraded with digital encoders, allowing the entire system to record in digital format for easy search and advanced functionality.
Analytics for branch and ATM transformation. Surveillance is primarily used for security purposes, but using it to enhance the business for operations, safety and marketing purposes can transform the customer experience. Camera analytics provide information of when peak periods occur by monitoring the foot traffic and length of time spent in the branches and at the ATMs. With this valuable data the bank or credit union can provide an enhanced customer experience by adjusting their branch staffing levels, opening additional tellers to reduce delays, and adjusting the number and location of ATMs and vestibule features, resulting in improved customer satisfaction.
We've come a long way since the 1957 bank robbery video footage, and today's changing threats and business needs require enhanced security solutions. With a robust network of HD cameras armed with analytics we are innovating for a smarter and safer world.
Rick Snook is business development manager for Axis Communications (www.axis.com), which provides network video and security and surveillance solutions. He has over 34 years of sales, marketing, technical and design experience in the electronic security industry. Rick has been involved with industry associations such as the Canadian Security Association, ASIS and the Security Industry Association for many years. He was awarded the R.A. Henderson Award for his achievements within the security industry and making significant contributions to the advancement of the interests of the entire industry.