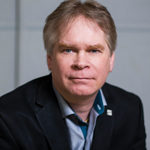 By Neil Butters
The payments industry has already made significant progress helping Canadians adopt and embrace new technologies, such as contactless and digital payments. Now it's time to apply what we've learned to the development of a truly digital ID that will help people unlock the full potential of the digital economy.
With more aspects of our lives moving online, it is increasingly important that people can securely verify who they are digitally while at the same time safeguarding their personal information. Yet the identification documents we use — such as driver's licences, passports and health cards — largely remain stuck in the analogue world.
A digital ID, on the other hand, will allow us to verify who we are online, protect our personal information and give us more control over how our information is used and shared. It will also eliminate threats associated with physical IDs, such as theft and counterfeiting.
Digital IDs also offer numerous benefits for businesses and governments. These include allowing them to deliver services more conveniently and effectively while reducing costs and the risk of fraud. The Digital Identity and Authentication Council of Canada (DIACC) estimates that the current reliance on physical IDs is creating nearly half a billion dollars in lost productivity every year, usually because people need to visit an office in person to present and verify their identity documents.
Canadians put great value on their identity. New research commissioned by Interac Corp. found that 83 per cent count their identity among their most valuable assets, with just over half saying it is more important to protect their identity online than their money.
But with that survey also showing that two-thirds of Canadians are worried a digital ID would be at greater risk of theft than a physical ID, it's clear we still have a lot of work to do to educate consumers before digital IDs gain widespread acceptance and use.
Communicating the benefits
Narrowing the knowledge gap about the relative security of physical and digital IDs must be at the top of our to-do list. Given all of the reports about online data breaches, it's understandable that the superior security of digital ID can seem counter intuitive to many people. But that ignores the very real risks of physical ID documents.
Consider the use of a driver's licence when making a purchase or collecting an online order from a store. You only need to verify who you are, which your photo and name should be enough to do. Yet your licence has your address, date of birth and other personal information that you're also sharing at the checkout. And if there are surveillance cameras behind the checkout and those cameras are connected to the Internet, it's possible that someone could hack into them and capture an image of your licence: and your personal data.
A digital ID, on the other hand, would allow you to confirm who you are through secure, encrypted channels, eliminating both the oversharing of personal information and the risk of that information being hacked.
Convenience, trust critical
A truly effective digital ID will need to be both convenient and trusted. Consumers won't use something if it's not more convenient than what's already available, and they also won't use it if they don't have the confidence that it's secure.
Our experience with contactless payments shows that when you get this combination right, you create a critical mass of users and a viable ecosystem. Data from Payments Canada shows that as Canadians discovered the convenience of contactless payments and came to accept the security underpinning it, transactions increased from $9.6 billion in 2012 to more than $100 billion just five years later.
In the absence of a secure digital ID, many people have resorted to insecure improvisations when they need to verify their identity online, such as when booking a vacation home in a foreign country or purchasing an insurance policy. Nearly half of the people in our survey admitted they had taken photos of their physical IDs to be able to share them online, even though almost 60 per cent knew this was a risky thing to do.
Addressing the knowledge gap among Canadians and replacing those risky workarounds with a secure, convenient and trusted digital ID is a shared goal that will require coordination and collaboration among a wide range of stakeholders, including governments, regulators, businesses, associations, and banks and financial institutions. Education on the risks and inefficiencies of physical IDs must be matched by action: we need to give Canadians a safe and convenient alternative.
Consumers will willingly accept digital IDs if they are executed correctly and if they have sufficient trust in the institutions delivering the solutions. Nearly three-quarters (72 per cent) of Canadians in our survey said using a digital ID to access government services should be as secure as making a payment online. Just under two-thirds (62 per cent) said knowing their digital ID is protected by the security used by their bank or financial institution would prompt them to favour a digital ID over a physical one. And nearly as many (58 per cent) said they would trust digital IDs more if they knew regulations were in place to protect their interests.
At Interac, we have a well-established history of working with a wide range of partners to bring new technology into Canadians' lives while creating an atmosphere of trust. Our many innovations, such as Interac e-Transfer and Interac Flash, provide Canadians with secure ways to pay and exchange money with ease and convenience.
We believe that the foundational technology behind our network — including encryption and tokenization — and the trust Canadians have in the security of that technology, will play a central role in enabling digital ID across a range of devices and platforms.
We're already working with public and private sector partners to digitize existing IDs, such as driver's licences, and explore how people could use these credentials to access goods and services while controlling the amount of information they share. We look forward to continuing to work with other stakeholders, including those in the payments and identity ecosystems, to make digital IDs a reality in Canada while maintaining the foundation of trust Canadians expect and count on.
Neil Butters is director, Products & Platform, Interac Corp.