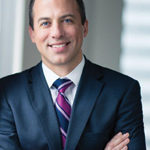 By Brian Weiner
The experience of buying and selling has fundamentally changed and there is no sign this will stop. Payments are no longer being constrained by current wire payment infrastructure, thereby opening up possibilities for people even in the most remote parts of the world and giving them access to the digital economy.
Businesses are also seeing the effects of globalization and are becoming increasingly borderless. But while trillions of dollars flow across the globe every day, when it comes to exchanging business-to-business (B2B) payments, the experience is less than optimal on an international level. Despite a time of rapid market growth, international payments remain difficult to navigate due to dated technologies and a maze of regulations.
Cross-border B2B payments through existing methods currently cross a large decentralized network of financial institutions and intermediaries. This can cause inefficiencies, such as in the speed of processing and settlement, transparency of how funds are moved, the cost of moving them and lost or incomplete transaction data along the way.
Not surprisingly, businesses are demanding more options with easier and more secure ways to make and receive international payments.
Faster, more secure solutions
Given these challenges, we saw an exciting opportunity for Visa to enable a commercial payment experience that better meets the expectations of our financial institution clients and their corporate customers. Launched in June 2019, Visa B2B Connect is a non-card-based platform—the first of its kind—that removes friction from the process of exchanging B2B payments internationally. Our goal was to build a product that was scalable and which met and exceeded Visa's standards of trust, reliability and security.
Visa B2B Connect expedites transactions directly from the originating bank to the beneficiary bank without the need for any intermediaries. What once could take up to weeks now takes just one or two days.
So how does it work? The new Visa B2B Connect is a global multilateral payments network built from scratch to solve a specific use case, rather than adding to an existing card network infrastructure. It leverages Visa's best-in-class assets for settlement, fraud, data analytics and risk management.
While speed was critical when building this product, we knew it couldn't come at the expense of security. Visa B2B Connect's digital identity feature tokenizes sensitive business information, such as banking details and account numbers, with a unique identifier to securely facilitate transactions on the network. This technology helps protect from many of the fraud risks that exist in the market today.
The global payment volume from one business paying another business is significantly larger than payment volume from consumer purchasing and growing. The B2B market segment opportunity presents an exciting time for everyone, from financial institutions to businesses and global payments players like Visa.
To learn more about Visa B2B Connect, visit www.Visa.com/visab2bconnect.
Brian Weiner is vice president and head of product, Visa Canada.