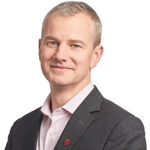 By Andrew McCormack
Since the introduction of Bitcoin in 2009, cryptocurrencies have had their share of media frenzy. Even Facebook has gotten in on the action, recently unveiling its Libra digital coin. But Bitcoin was the first, it's the biggest and with the help of new players on the market, interest in it has been reinvigorated.
But let me ask you this, have you bought anything with Bitcoin lately? Would you invest your hard-earned savings in it? Answers to these questions vary depending on the individual. When Canadians were asked about their perceptions and attitudes towards Bitcoin, the answers fluctuated: much like the value of the popular digital currency.
Tracking consumer attitudes
While there had previously been some studies tracking consumer awareness and use of Bitcoin in the Canadian marketplace, Payments Canada wanted—from a research standpoint—to measure how Canadians who have used the cryptocurrency feel about it. That's why Payments Canada joined CorbinPartners Inc. to launch the Bitcoin Sentiment Tracker, so we can better understand the experience of those who have dabbled in the Bitcoin market, have actively invested or who have steered clear.
"We've studied merchant acceptance of Bitcoin in Canada in the past, but this is the first time we've tackled consumer sentiment around Bitcoin," said Jon Purther, president and chief operating officer, CorbinPartners Inc. "These findings give us a good indication of what's driving people to purchase and the obstacles for those yet to purchase."
What did we find out, and moreover, what does it all mean?
For starters, curiosity is playing a role in people's purchase of Bitcoin. Almost four in ten Canadians bought Bitcoin for the first time simply because they just wanted to try it.
Delving into Bitcoin's investment viability, we found that its price volatility is seen as both a positive and a negative feature. 29 per cent of Canadians who purchased Bitcoin for investment purposes found its price volatility to be an advantage compared to traditional currency, while 39 per cent of those yet to purchase Bitcoin perceive the same to be a core disadvantage.
Of those who bought Bitcoin, many find it easy to use (34 per cent) and a third call out its cross-border use as a key advantage. However, only a small percentage of Canadian businesses accept Bitcoin to this point, making it less convenient than the good old dollar. On the flip side, the majority of businesses that are transacting in Bitcoin are pleased with the experience and would recommend that other business owners adopt it as a payment source.
That's a lot of opposing answers to the same questions. A difference in opinion is natural, but what's behind Canadian sentiment toward Bitcoin? Moreover, what's behind the wild fluctuation in its value? The suspicion, from our perspective, is that Bitcoin is going through an identity crisis and people are choosing to invest, or not, based on what they perceive Bitcoin to be.
You could argue that Bitcoin is, at once, a currency, an investment and a technology and perhaps one more than another on any given day, which has a direct impact on its market price. When Bitcoin is good as an investment, it is not good as a vehicle to purchase goods and services, and vice versa.
Bitcoin's future?
So, what's the future of Bitcoin? It's still tough to say for sure. The technology behind digital currency is fascinating, progressive and stable.
But the trust in Bitcoin—to buy and trade on platforms—still needs to evolve. It is international, it doesn't have a central governance of any kind, so consumers remain hesitant and, for now, it is not the place where most Canadians are going to put their hard-earned money. Six in ten Canadian Bitcoin users (60 per cent) plan to use Bitcoin again in the next 12 months. However, fewer than one in ten non-users (9 per cent) plan to purchase or transact Bitcoin over the same timeframe.
Looks like it will be a combination of awareness and education that will further fuel the Bitcoin bus.
Andrew McCormack is chief information officer at Payments Canada. He is responsible for Canada's core payment systems as well as Payments Canada's technology strategy and emergent technology agenda. For more on the Bitcoin Sentiment Tracker visit www.payments.ca or e-mail info@payments.ca.