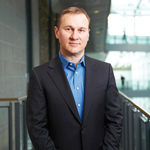 By Peter Misek
Earlier this year, FinTech and artificial intelligence (AI) startups across Canada presented their innovative solutions for the payments industry at the Visa-sponsored Future of Payments Pitch Battle, as part of the Canadian Fintech Summit (www.fintechsummit.ca).
Amongst 14 startups across a wide range of sectors, one company stood out from the rest. Payment Rails (www.paymentrails.com) took the No. 1 spot for its innovative payouts platform that enables businesses to effortlessly send payments around the world to their contractor workers and suppliers via multiple payment methods.
Derek Colfer, head of Technology and Digital Innovation at Visa Canada and Tim Nixon, CEO and founder of Payment Rails sat down with me to discuss the Pitch Battle, the current FinTech landscape and the future of FinTech in Canada.
Peter Misek (PM): What kind of challenge is Payment Rails trying to solve?
Tim Nixon (TN): We're helping businesses and platforms pay their on-demand contractor workforce. We help automate all the processes to pay on-demand workers with our REST API and online dashboard. We connect our customers to a global payments infrastructure, all under one platform and application programming interface (API), and save them up to 80 per cent in reduced payment and admin costs: while offering a far better end-user experience.
PM: What did you get out of the Future of Payments Pitch Battle?
TN: We were excited for the opportunity to present our innovative product to the Canadian FinTech and banking communities. It was great exposure, which led to a number of discussions with prospective new customers and partners. The subsequent networking dinner hosted by Visa helped us develop strong connections with key people from Canada's largest banks for potential partnerships.
PM: What unique opportunities does Canada's FinTech scene provide Visa and FinTechs?
Derek Colfer (DC): Toronto is North America's second largest financial services hub after New York City in terms of industry employment. The city is seeing increased interest in FinTech investments, with one of the highest growth rates globally (118 per cent since 2010, according to Toronto Finance International). This milieu provides fertile ground for Visa to continue being a trusted connector in the payments industry, with a focused commitment to foster relationships that will help start-ups grow. Toronto's rich talent pool is keen to stay here, which provides a fertile ground for innovations.
TN: We have offices in both Montreal and Toronto, which help us benefit from the best that both cities and provinces have to offer. Whilst Toronto is clearly the financial centre, Montreal has a very strong and supportive tech start-up scene, with great local programmes focused on helping FinTechs, such as Holt Fintech Accelerator and Fintech Cadence. Both cities are great places to find incredibly talented people to help build a global FinTech business.
PM: How are FinTechs playing a role in solving payment challenges?
DC: The future of payment innovation depends on our ability to collaborate with new and traditional players in the payments ecosystem. Consumer preferences and experiences are rapidly evolving. With more than 25 billion estimated connected devices worldwide by 2021 (according to research from Gartner), there's a huge opportunity to bring consumer-centric payment experiences to everyone, everywhere. This new juncture opens the door for FinTech startups—like Payment Rails—to create innovative payment methods that revolutionize the consumer experience.
PM: How does Visa support FinTechs?
DC: Visa's global network delivers the security, speed and scale that FinTech companies need to grow their businesses. FinTechs, through their sponsoring financial institutions, can leverage Visa's relationships and technology to begin issuing Visa cards to their consumers. They can also take advantage of Visa Direct to support fast and easy payouts for things like wage disbursements, payments to employees and other push payment transactions. We also provide valuable industry expertise and resources that are all housed in the Visa Developer Portal. It's a one-stop-shop for FinTechs.
PM: Why is it important for big tech to enable FinTechs?
TN: FinTechs are focused on solving real problems for consumers or businesses in new ways, but access to financial infrastructure is still required to deliver many of these solutions. In most cases this means partnering with incumbent banks or insurers to access those services. Visa is uniquely positioned as a global network with deep connections. Having Visa's support can greatly accelerate a FinTech's speed to market.
PM: What are your hopes for the future of FinTech in Canada?
TN: My two hopes for the future of Canadian FinTechs is that we see more successful independent companies scale up at both the national and international level and become leaders in their categories.
Peter Misek is founding partner at Framework Venture Partners (www.framework.vc). His company organized the annual Canadian Fintech Summit with BDC Capital and in collaboration with MaRS Discovery District.