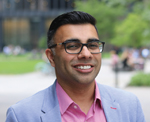 By Meenaz Sunderji
A recent report released by the Standing Senate Committee on Banking, Trade and Commerce warned that Canada is at risk of falling behind if the country fails to create a regulatory environment conducive to open banking.
The report called for the federal government to move forward with an open banking framework so that Canadians can have more choices when it comes to financial products and services: which will also keep the Canadian financial sector internationally competitive.
While there are many potential benefits to open banking, one of the most important to Canadian consumers is more choice when it comes to financial products and services.
More competition, innovation
The current financial landscape in Canada is fragmented with some FinTechs beginning to enter the space looking to disrupt how financial services are provided. In anticipation and response, Canadian policymakers and regulators are working to advance open banking initiatives to increase consumer choice through a more diverse ecosystem of financial services providers and products.
The Senate report noted that Canadian consumers and small businesses would benefit from increased competition and innovation in the financial sector. Competition and innovation are arguably the most significant areas of opportunity provided by open banking. Open banking would facilitate the ability of financial services providers to create tailored products and services more closely aligned with customer needs. Increased competition will also benefit consumers, allowing increased visibility for comparing pricing, products and offers to help them make more informed choices.
With more competition, financial institutions will be challenged to develop more innovative products and solutions. To succeed, they'll need to show how customer-centric they can be, creating compelling customer experiences, deepening loyalty through transparency of fees and allowing customers an earnest sense of autonomy and information.
Small and medium enterprises (SMEs) also stand to benefit from open banking. This is good news for one of the most traditionally underserved segments of the financial services market. According to the Review into the Merits of Open Banking consultation document by the Department of Finance Canada's Advisory Committee on Open Banking, SMEs would benefit from open banking through digital services. Namely those that reduce red tape, platform applications that allow new operational insights and functionality and faster adjudication of small business loans, auto financing and mortgages, with greater variety and flexibility.
Information safety and security
While recognizing the benefits of open banking, both the Advisory Committee's consultation document and the Senate committee's report stressed the importance of protecting the security and privacy of consumer information. The Senate report noted that "it is up to the federal government to encourage innovation and the adoption of new technologies while protecting the privacy of Canadians. If implemented correctly, open banking offers the federal government the opportunity to accomplish both of these objectives."
This is probably one of the biggest challenges in open banking. Fundamental to it is the fluid transfer and sharing of customers' financial data to make it easier for them to work with multiple financial institutions. Lawmakers and regulators are still hashing out how to protect consumer privacy as this data is being exchanged.
One of the keys to addressing this challenge is defining the scope and accessibility of data. Consensus on how broad this data sharing will be and how data can be used will need to be reached among all stakeholders. These include representatives from federally and provincially regulated financial institutions, financial services providers, consumer advocacy groups, Payments Canada and other relevant groups, to ensure that consumer privacy is protected.
Strong, competitive sector
Recognizing that open banking is better for customers and an economic benefit for Canada, lawmakers and regulators are focusing on advancing this initiative. According to the Review consultation document, "the digital transformation of the financial sector and supporting policy frameworks have the potential to both better serve consumers and grow businesses and markets, contributing to the growth of the Canadian economy and Canada's global advantage."
While there is an urgency to keep pace with the digital transformation of the financial services sector, Canada is taking a measured approach to open banking. The country ranks eighth in the EY Open Banking Opportunity Index, which assessed the readiness of 10 different markets around the globe to thrive in an open banking environment. Lawmakers and regulators are taking this go-slow approach to help ensure that the Canadian financial sector remains strong throughout the evolution of this initiative.
As Canada moves toward open banking, the country can also enhance the competitive position of its financial sector by taking a best practices approach to implementing open banking. By observing the evolution of this initiative—what worked, what didn't—in the U.K, the European Union and Australia, Canadian lawmakers and regulators can make more informed decisions that balance the benefits to the consumer with mitigation of risks as they implement open banking.
Open banking is inevitable. Lawmakers and regulators in Canada are working to transform the country's financial services sector with open banking policies. Those that encourage greater competition and product and service innovation for the benefit of consumers, protect the privacy and security of consumer information and position Canada's financial services sector to remain competitive in the global banking market.
Meenaz Sunderji is executive vice president, Zafin (https://zafin.com), which provides product and pricing control solutions to financial institutions. He is responsible for partner growth, sales strategy and sales growth globally.